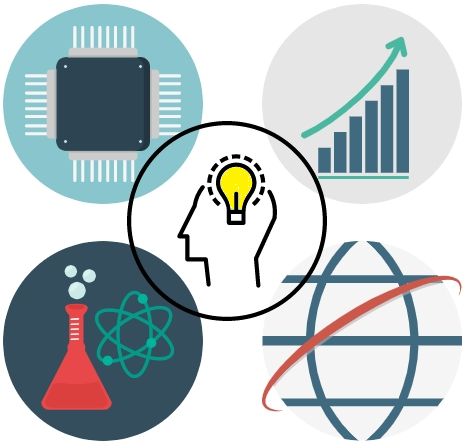 Let's do unique academic, industrial, and scientific publications with JIMIRA!
The Journal of Infographics in Multidisciplinary Initiatives, Research, and Articles (JIMIRA) is not constrained to a specific viewpoint of academic, industrial, and sciences fields, but instead it is dedicated to a broad range of topics of these fields. And, it encourages authors and contributors to format and organize their original ideas and initiatives, current state-of-the-art research topics, as well as previously submitted and published papers and articles to simple, well-organized, and straightforward Infographics.
Infographics are a collection of illustrations, figures, graphics, charts, tables, and other information representations that aim to illustrate textual information and ideas visually. Infographics make life easier in the way of understanding and absorbing the knowledge faster than the textual formatting, since "one picture is worth a thousand words," Fred R. Barnard. Moreover, infographics are graphic visual representations of data or knowledge that intended to present and demonstrate such information quickly and clearly, so that they can improve cognition by utilizing graphics to enhance and develop the readers' and scholars' visual system's ability to recognize patterns and trends distinctly [Wikipedia].
The infographics of this journal are multidisciplinary in nature and exceptionally welcome for submissions. The scope and aim of this journal focused on the following disciplines and trends of different fields, which are:
◈ Accounting & Finance
◈ Aerospace & Aviation
◈ Agriculture & Vegetation
◈ Animals & Wildlife
◈ Artificial Intelligence
◈ Arts & Crafts
◈ Astronomy & Space
◈ Biology
◈ Chemistry
◈ Computer Science
◈ Cryptocurrency
◈ Designs & Photography
◈ Earth & Nature
◈ Economy & Markets
◈ Education & Learning
◈ Energy & Power
◈ Engineering Sciences
◈ Entertainments & Travels
◈ Ethics & Morals
◈ Family & Friends
◈ Foods & Nutrition
◈ General Sciences
◈ Geography & Maps
◈ Geology & Seismology
◈ Health & Sports
◈ History & Civilizations
◈ Humans & Anthropology
◈ Immigration & Nationality Acts
◈ Industry & Commerce
◈ Information Technology
◈ Innovations & Patents
◈ Knowledge & Skills
◈ Languages & Phonology
◈ Laws & Regulations
◈ Lifestyle & Wellness
◈ Management & Leadership
◈ Mathematics
◈ Medical Sciences
◈ Military & Politics
◈ Philosophy & Critical Thinking
◈ Physics
◈ Plants & Forests
◈ Protocols & Standards
◈ Psychology & Sociology
◈ Quantum & Nanotechnology
◈ Reading & Literature
◈ Religions & Cultures
◈ Robotic Sciences
◈ Stocks & FOREX
◈ Transportation & Logistics
◈ Weather & Environment